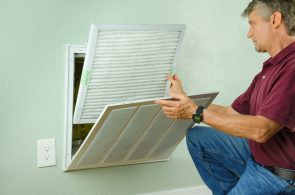 The busy holiday season is over and 2017 has arrived. Along with your New Year's resolutions, it's a good month to establish new habits that enhance and simplify your life. To help start the year off right, we've put together some items to keep your home running smoothly.
Increase energy efficiency
Change furnace and refrigerator water filters.
Pull out refrigerator, stove, washer and dryer to vacuum behind them and to clear your dryer lint hose.
Reverse ceiling fans. Hot air rises, so reversing fans forces warm air down.
Place weather-strip around doors, and caulk around windows.
Prevent frozen pipes
Set your thermostat to at least 55 degrees (especially if you will be away). Leave your bathroom and kitchen cabinet doors open to warm exposed pipes.
Disconnect outdoor hoses, and turn off and drain water from exterior faucets, if you haven't already done so.
Clean and organize
Go through your closets and donate unused items.
Clean out your refrigerator and freezer.
Once you've completed these maintenance tasks, you'll have momentum and a clear mind to set your own personal goals and make it your best year ever.
http://newsroom.longandfoster.com/2017/01/january-home-maintenance-checklist/